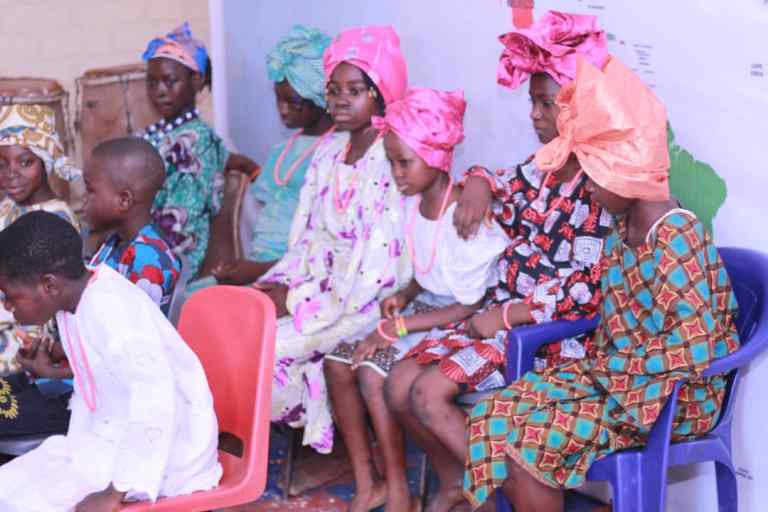 2020 End of the Year Event and Learning Exhibition
As we move towards the end of the year, it is our culture to celebrate ourselves with our friends, parents and families. This year, we decided to celebrate our event on the 16th December, 2020 in a grand style. Though, we are becoming better by the day as we attain perfection in the coming years. Months before the event, we had started rehearsing for the event and the day to come. Here are some of our activities for the day:
ANTHEM: During our course of preparing for the event, we understand that we as Nigerians need to display our patriotism to our Nation by reciting her anthem. We sprang into actions by teaching everyone in our learning community how to recite the Anthem both the first and second stanza. As our learning space continue to grow, we also saw necessity for us to have a composed Anthem for Bramble which was coined out from the value we embrace in the community. It was really a beautiful moment as everyone recites the anthem together.
SONGS: As the event also entails the birth of Jesus, we unfold this in our community through various songs for Christmas.
PRESENTATION: Through what will be of benefit and according to the culture of the season, our presentation was divided into two part which are; memory verse and social presentation touching some aspect we have learnt during family meetings and other parts relating to our people.
NEWS: Throughout the year, we experience various things. We decided to put them into writing to have a glimpse about what took place around us and within us. To make this inclusive, we had our news written in two languages i.e English and Yoruba for better understanding for our guest and parents.
CHOREOGRAPHY: Every event needs more than an iota of creativity. Since one of our core values is creativity, we can also achieve this through other means such as choreography.
 CULTURAL DANCE: Culture which is the total way of life of the people has a way it entertain people. Since we are a community with two dominating tribes, we decide to showcase this by displaying our dance in Yoruba and Igede (Benue state). This implies that, Bramble is not concern about some certain part but we are overwhelmed to see our learners understanding their origins.
DRAMA: It is with great joy to see our learners putting their effort for a successful program. Thus, to achieve this we also proposed to act drama which was a success after several days of rehearsals.
These are our indoor activities towards the end of the year event. It was a beautiful event that was anchored by Ms. Funke Soyombo.
LEARNING EXHIBITION
Practicing what we do is our emphasis. As these resonate with us, we thereby create some things through our learning journey to better our lots in solving the world biggest challenges. We encourage our community to create relevant things for exhibition. This year, we had tyre seat made from waste tyres, first aid box, beads, plastic bottle broom, piggy bank, wine bottle decoration and Abacus counting device.  We had an exhibition view for our creation.
In the morning, we had an interview session with Ms. Bolade as the On Air Personality. We also had guest from different part of the country and everyone had successful journey.
We had enough snacks and for our learners, guest and families. This shows we were fully ready for what was ahead of us.
We also received donations of Novels from one of our guest from Ogbomosho who are the coordinator of "children that change the world."
Although as human, we strive for the best. There are some flaws also that we need adjustment. For instance, some of the learner's voice was not audible enough for some of the guest and parent. The Karaoke mic which was not effective during the program is also one of the things that wasted our resources. With our feedbacks fully noted we surely trust that next year would be better and full of creativity.
Lastly, the undaunted support from Bramble team has made the event a success. There would have been little or no success if the entire team had withdrawn their support. So, this report would be incomplete without the team work.
Omoyemi Adeayo
Event Organizer.